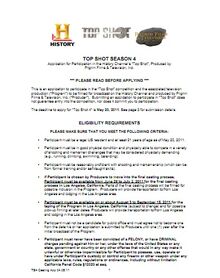 "When I filled out the application to be on Season Two, one of the questions they ask is why you want to be on Top Shot. I put a simple answer down; because I can win it."
―Chris Reed, winner of Season Two
Applications are documents filled out by auditioners to apply as a contestant for a season of Top Shot. Along with the application, an auditioner must also submit an audition video.
Parts of the application
Edit
On the application, there are three different sections. The first section is for Eligibility Requirements, which gives rules to who cannot be a contestant. After this, there is a section for Submission Guidelines. Finally, there is a form where answers must be filled out. The questions asked include an applicant's legality, marksmanship, physical fitness, and personality. At the bottom of the application is a spot for a name and signature, as well as the date.
External links
Edit
Community content is available under
CC-BY-SA
unless otherwise noted.