Behind the Bullet




Season
Episode

13

Date aired
Episode guide
Previous episode
Next episode
Behind the Bullet was a one-hour documentary of Top Shot Season Two aired on April 26, 2011 after the Season Two Finale. It included behind-the-scene interviews and footage taken during Season Two.
Official description
The marksmen return to reveal their secrets to competing this season. They discuss the unseen skills, strategies and the most controversial shots from the competition. Plus a sneak peek to marksmen chosen for Season 3.
Episode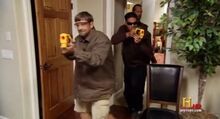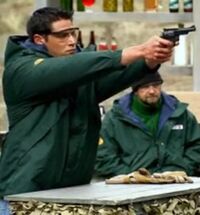 The documentary started with the display of audition videos of Ashley Spurlin, Maggie Reese, Joe Serafini, George Reinas, Kyle Frasure, Brian Zins, Jamie Franks, Daryl Parker, Jay Lim, Travis Marsh, Athena Lee, Chris Reed, Jermaine Finks, and Eric Anderson. After this, they address the first challenge that divided the 16 contestants into two teams. Then the documentary focused on the breaking up and division of the teams, followed by the lengthy first challenge. Following this were the errors made by the contestants. It then goes to more behind the scene clips including a Nerf gun battle, the alliance between Chris Reed, Ashley Spurlin, Brian Zins, George Reinas, and Joe Serafini and how it managed to last from the first day to the last. Then after this the episode shows the controversial shot by George during the finale that inevitably led to his loss. George also admitted what he was thinking during the time and how he felt fighting inside whether to miss or hit his target. It then showed behind-the-scenes interviews with Brian and Chris Reed during the final challenge. Finally, there was a display of post-competition statuses of the competitors:
Travis Marsh is starting a junior shooting program in his community.
Athena Lee will compete on the Women's Open Team in Greece.
John Guida is running the family restaurant and competing locally.
Jermaine Finks is still working for Homeland Security.
Maggie Reese will be competing at the World Shoot in Greece.
Eric Anderson continues to compete in mounted shooting.
Chris Tilley is competing in world championships.
Kyle Frasure has been shooting with Maggie and Jay.
Daryl Parker just published his first novel.
Jay Lim is still a golf instructor. He hopes to be an NRA certified pistol instructor soon.
Ashley Spurlin is currently in Afghanistan.
Jamie Franks has just returned from a deployment in Afghanistan.
Joe Serafini is back working construction and competing in archery tournaments.
George Reinas is finishing his Air Force service and is a guest instructor at their Sniper School.
Brian Zins is going into production with his own line of ammunition.
Chris Reed is hoping to teach more people about hunting and marksmanship. He plans on investing his winnings for his kids' education.
Season Three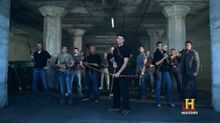 At the end of the documentary, the sixteen competitors of Top Shot Season Three were revealed: Sara Ahrens, Alex Charvat, Chris Collins, Dustin Ellermann, Jarrett Grimes, Amanda Hardin, Mike Hughes, Michael Marelli, Paul Marinaccio, Phil Morden, Gary Quesenberry, Billy Rogers, Mark Schneider, Drew Shprintz, Cliff Walsh, and Jake Zweig.
References
Top Shot: "Behind the Bullet"