Brian Zins
 Personal information
Hometown

Poland, OH

Occupation

Independent security contractor

 Competition information
Season
Team
Place

2nd (Season 2)
4th (Season 5)

Episode eliminated
[Source]
Brian Zins was a contestant of Top Shot that participated during Season Two and Season Five.
During Season Two, Brian was originally a member of the Red Team, but became part of the Green Team during the last half of the competition. He was eliminated after losing the Final Challenge of the Season Two Finale against Chris Reed.
Brian was brought back for Season Five, but was eliminated during the Season Finale after losing the first Elimination Challenge.
Personal life
Edit
Brian Zins is an independent security contractor from Poland, Ohio. He is NRA's 12-time National Pistol Champ. Brian was a member of the U.S. Marines and was a shooter for their pistol team. He has set numerous national records with the NRA. Brian recently retired from the Marine Corps.
Top Shot: Season 2Edit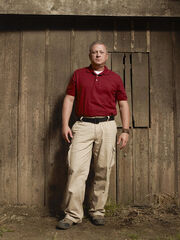 Week Three
Edit
Week Four
Edit
Week Five
Edit
Week Seven
Edit
Week Eight
Edit
Week Nine
Edit
Week Eleven
Edit
Week Twelve
Edit
Post-competition
Edit
According to Behind the Bullet, Brian is producing his own line of ammunition called Gunny Zins Ammo.
Top Shot: Season 5Edit
In 2013, it was announced that Brian would be a contestant in Season Five, Top Shot All-Stars.
In the episode Best of the Best, Brian was sent ot the proving grounds. However, he remained safe after being the closest to hit the bullseye.
In the episode Tricks of the Trade, Brian Zins was chosen to split a bullet on an axe head with the Colt Peacemaker. His squad was not sent to the Proving Ground.
Week Three
Edit
In Week Three, Brian competed with Alex Charvat in a speed shooting contest. He defeated Alex and remained safe from the Proving Ground.
External links
Edit
Community content is available under
CC-BY-SA
unless otherwise noted.