Chris Brackett
 Personal information
Born

August 25, 1977[1]

Hometown
 Competition information
Expert of
Appearances
[Source]
Chris Brackett is a world-class archer and crossbow expert who appeared as an expert in Top Shot Season Two, Four, and Five.
Personal life
Edit
Chris is from Bartonville, Illinois. He is able to shoot an aspirin thrown in the air from 13 yards away.
Season Two
Edit
Chris Brackett was the expert for the Practice Session on Week Four, helping both teams get comfortable using the Bowtech Assassin compound bow. Chris noticed that a majority of Red Team did well with the bow, and stated that he believed that Chris Reed did the best while shooting it. Then the Blue Team was up, and afterwards, noticed the same results as the Red Team. He stated that he believed that Jay Lim was the best with the weapon, and that Maggie Reese was probably the most improved. Chris later witnessed the victory of the Red Team at the Team Challenge.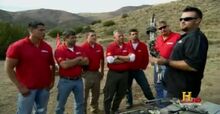 After the Blue Team had nominated two people, Kyle Frasure and Maggie Reese, to participate in the Elimination Challenge, Chris had to train with both of them. Maggie was the first to go, doing everything she was supposed to and being very accurate. Then Kyle was up, stating that Kyle would probably do well if he didn't have any torque with his left hand. He later witnessed the Elimination Challenge, in which Kyle ended up victorious, sending Maggie home.
Season Four
Edit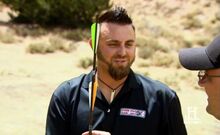 Chris Brackett returned on the Season Four episode "Crossbow Crossfire", to train the contestants with the BowTech StrykeZone 350 crossbow.
References
Edit