Chris Collins
 Personal information
Born
Hometown
Occupation
 Competition information
Season
Team
Place

TBA

[Source]
"True marksmanship is a hundred percent skill. The more pressure I'm under, the better I shoot."
―Chris Collins
Chris Collins is a contestant of Top Shot Season Three and member of the Red Team.
Personal life
"I can deploy any projectile you can think of."
―Chris Collins
Chris is a firearms instructor and college student of criminal justice from Collinsville, Oklahoma. He served with the United States Marines for five years, being introduced to pistols, rifles, and rockets. In addition to using firearms, Chris also has experience with bows, blowguns, throwing knives, and slingshots.[1]
Top Shot
Week One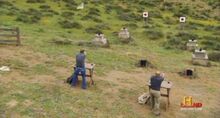 Chris arrived for Top Shot along with the other fifteen contestants. Here, Colby Donaldson, the host of the competition stated that the placement of each contestant would be determined by a Preliminary Challenge. In pairs, the contestants would shoot head-to-head using the Smith & Wesson 500 Magnum at three targets. Whichever of the pair could hit the three targets before the other would be victorious and become a member of the Blue Team, while the unvictorious would become a member of the Red Team. After two of the pairs had already competed, Colby called Chris and former member of the Armed Forces, Jake Zweig, to shoot. Both of them hit the first target simultaneously. However, Jake was able to hit the second and third targets, while Chris struggled with the second. This resulted in his defeat and his spot on the Red Team. After all of the pairs had competed, Colby allowed the contestants to head to the house they would be living in during their stay in the competition. The Red Team arrived here first, claiming all of the bottom bunks of the beds, to their satisfaction.
References
External links
Community content is available under
CC-BY-SA
unless otherwise noted.