Craig Buckland
 Personal information
Born

1963–1964[1]

Hometown
Occupation

Chemist

 Competition information
Season
Place

18th

[Source]
Craig Buckland was a contestant of Top Shot Season Four. He was eliminated during a Preliminary Challenge on Week One, before the teams were formed.
Personal life
Edit
"Being a scientist and being a marksman are one and the same."
―Craig Buckland
Craig is a chemist residing in Sandisfield, Massachusetts. As a member of a manufacturer's shooting team, Craig has won at least one championship title annually since 2007. He's been shooting competitively for around 10 years, traveling the United States and Europe in a number of shooting events. Craig is also a 5-Gun master of the International Defensive Pistol Association and one of only three "Stock Service Revolver Distinguished Master" in the world.
During the first episode of the show, Craig Buckland arrived at the Shooting Range, along with the other seventeen contestants. Host Colby Donaldson announced a Preliminary Challenge to narrow the contestants to sixteen, where each contestant would have to fire an M14 rifle at a target 200 yards downrange. The two contestants with the shots farthest from the bullseye would be eliminated.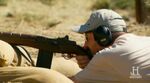 Craig was the sixteenth contestant to shoot the M14. His shot landed at 9.6" from the bullseye, which put him in the "hot seat", along with Forrest McCord. With only two contestants left to shoot, Colby warned Craig that if any of the two remaining contestants shot closer to the bullseye, he would instantly be eliminated. After that, Tim Trefren hit the target 2" from the bullseye, automatically eliminating Craig from the competition.

After William Bethards shot, Forrest was announced as the other eliminated contestant, and Colby asked him and Craig to say goodbye to the others. Craig and Forrest then walked away from the Shooting Range.
References
Edit
↑ Note: This is a user-made calculation.
External links
Edit
Community content is available under
CC-BY-SA
unless otherwise noted.