Garry James
 Personal information
Born
Hometown
 Competition information
Expert of
Appearances
[Source]
Garry James (born January 24, 1944; age 76) is a historical weapons expert residing in Los Angeles, California. He has made an appearance in Top Shot Season One as an expert for historical rifles, in Season Three and Five for a Gatling gun, and in Season Four for the M1 carbine.
Season One
Edit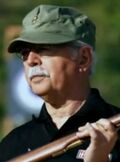 In Week Five of Season One, Garry James appeared as an expert for the sixth Practice Session, where he gave the remaining eleven contestants guidance with using the Kentucky long rifle. The Red Team's practice went very smoothly, but during the Blue Team's Practice Session, the rifle kept producing hang fires, which annoyed some members of the team. The following day, Garry was present at the Team Challenge. In the middle of this challenge, the original rifle had been producing constant hang-fires, which led the contestants to using Garry's personal Kentucky long rifle. He then witnessed as the Red Team defeated the Blue Team by a large margin.
The following day, after the Blue Team had nominated Adam Benson and Caleb Giddings for the Elimination Challenge, they returned to the Shooting Range for another Practice Session. Here, Colby Donaldson, the host of the competition, stated that the two would have to get accustomed to shooting the Winchester Model 1873 under guidance by Garry, by shooting at the rungs of a ladder. Adam was first, and during the practice, Garry observed that he had adjusted the sights on the firearm, to better his shots with the weapon. Caleb, on the other hand, had used Kentucky windage to establish a point of aim. Later that day, Garry witnessed the Elimination Challenge, in which Adam came out victorious, sending Caleb home.
Season Three
Edit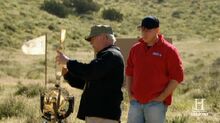 During
Week Four
of
Season Three
, Garry was present as the expert for the Elimination Challenge. After
Michael Marelli
and
Mark Schneider
were voted into the Elimination Challenge after
Red Team
's defeat prior to the practice, Colby announced that Garry James would be helping them get accustomed to using the
1877 Bulldog Gatling gun
. After instruction both men on how to load the weapon and to adjust it, Garry stated that Michael and Mark were both comfortable with using the Gatling gun, and that both would likely do fine in the challenge.
Season Four
Edit
James returned as an expert on Season Four's debut episode, "Sweating Bullets". He trained the Blue Team nominated contestants, Frank Melloni and Gregory Littlejohn, in using the M1 carbine.
References
Edit
External links
Edit
Community content is available under
CC-BY-SA
unless otherwise noted.