Gregory Littlejohn
 Personal information
Born

1980–1981

Hometown

Waterloo, IL

Occupation

Federal Police Officer

 Competition information
Season
Team
Place

2nd

Episode eliminated
[Source]
Gregory Littlejohn was a contestant of Top Shot that participated in Season Four and Season Five.
During Season Four, Gregory was originally a member of the Blue Team, but became part of the Green Team during the last half of the competition. Gregory was eliminated during Week Twelve, after losing the Final Challenge against Chris Cheng.
Gregory was brought back for Season Five, but he lost during Week One after losing an Elimination Challenge against Gary Quesenberry.
Personal life
Edit
Gregory is a federal police officer from Waterloo, Illinois. He was originally taught to shoot by his father. He served 9 years in the United States Air Force Security Forces and six years as a firearms instructor. Gregory is also a veteran of Operation Iraqi Freedom and Operation Enduring Freedom. He has also competed in the International Practical Shooting Confederation.
Top Shot: Season 4Edit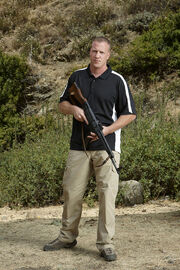 Week Three
Edit
Week Four
Edit
Week Five
Edit
Week Seven
Edit
Week Eight
Edit
Week Nine
Edit
Week Eleven
Edit
Week Twelve
Edit
Post-competition
Edit
According to Behind the Bullet, Gregory has been shooting USPSA matches. He spent most of his $6000 from Bass Pro Shops on ammo.
Top Shot: Season 5Edit
In 2013, it was announced that Greg would be a contestant in Season Five, Top Shot All-Stars. Greg was eliminated in the first episode of Season 5, losing to Gary Quesenberry.
External links
Edit
Community content is available under
CC-BY-SA
unless otherwise noted.