Iain Harrison
 Personal information
Hometown

Sherwood, OR

Occupation

Construction manager

 Competition information
Season
Team
Place

1st

[Source]

Iain Harrison was a Top Shot contestant of Season One who was originally a member of the Blue Team, but managed to survive past the half-way mark in the competition and became a member of Green Team.
Iain became the first Top Shot, after defeating Chris Cerino in the Season Finale.
After winning Top Shot, Iain has returned as an expert in Season Two and Season Four, having expertise with shooting a variety of pistols and rifles.
Personal life
Edit
Iain was born in Great Britain, UK. He served as a re-con platoon commander for the British Army. He moved to the US and started working as a construction manager in Sherwood, Oregon while pursuing competitive shooting.
In 2009, Harrison finished second in Trooper Class in the 2009 MGM Ironman multi-gun competition. Being an amateur gunsmith, the guns he used during the competition were made by himself.
In December 2011, Harrison gained his US citizenship. In January 2013, he became editor of RECOIL magazine, in which he also collaborates as a writer.
Top Shot contestantEdit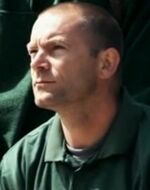 Week Three
Edit
Week Four
Edit
Week Five
Edit
Week Seven
Edit
Week Eight
Edit
Week Nine
Edit
Post-competition
Edit
Return to Top ShotEdit
During Season Three, Iain served as honorary team captain of the Blue Team during the Team Challenge on Week Six, while Chris Reed served as captain of the Red Team. Each team captain chose a charity that would receive a $5,000 donation, if his team ended up winning. Iain chose Wounded Warrior Project. His team ended up losing the challenge.
Top Shot expertEdit
Expert
 Competition information
Expert of
Appearances
[Source]
Iain has returned twice to Top Shot as an expert.
Season Two
Edit
Season Four
Edit
Iain appeared in the Season Four episode "The Mad Minute".
References
Edit
External links
Edit
Community content is available under
CC-BY-SA
unless otherwise noted.