"I would like to be known as the harmless, old guy. But I'm the silent assassin who sends them home one at a time."
―Kyle Sumpter
Kyle Sumpter was a contestant of Top Shot that participated in Season Four and Season Five.
During Season Four, Kyle was originally a member of the Red Team, but became part of the Green Team during the last half of the competition. Kyle was eliminated during Week Eleven, after losing an Elimination Challenge against Augie Malekovich.
Kyle was brought back for Season Five, but he was eliminated during Week Four after losing an Elimination Challenge against Jamie Franks.
Personal life
Kyle Sumpter is a police commander from Kent, Washington. He has 20 years of law enforcement experience, including 12 on a SWAT team. He has won several Washington State IDPA and Steel Championships, competing with only police service weapons.
Top Shot: Season 4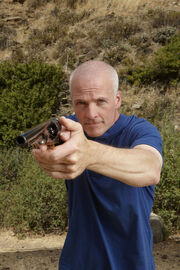 Week One
Week Two
Week Three
Week Four
Week Five
Week Six
Week Seven
Week Eight
Week Nine
Week Ten
Week Eleven
Post-competition
According to Behind the Bullet, Kyle has been running lethal force and firearms training courses.
Top Shot: Season 5
In 2013, it was announced that Kyle would be a contestant in Season Five, Top Shot All-Stars.
Week One
In the episode Best of the Best, Kyle was sent to the proving ground. However, he managed to stay safe this round.
Week Two
Kyle was sent to the elimination competition against Blake Miguez. After a tie-breaker involving shooting a gumball off a peg with the Volquartsen Ruger 10/22, Kyle defeated Blake and remained safe.
Week Three
Week Four
External links
Community content is available under
CC-BY-SA
unless otherwise noted.