M1903 Springield




Type
Country

United States

Introduced

1903

Appearances
The M1903 Springield is an American rifle used during World War I. It has been used on Season One of Top Shot.
Season One
Edit
The M1903 Springield was used during "The Long Shot", which was the first episode of Season One. The rifle was part of the first Team Challenge, along with three other weapons: the M14, the SVT-40, and the Mosin-Nagant. The weapons were introduced during the Practice Session, where expert Craig Sawyer trained them in the use of all four.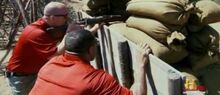 When the Team Challenge came, contestants were supposed to go through a series of stations and shoot targets at 50 and 100 yards. The M1903 Springield was to be used at the first station, after crawling under barbed wire. Mike Seeklander and Andre Robinson (from the Red Team) and Iain Harrison and Tara Poremba (from the Blue Team) were chosen as the first shooters. Andre, Iain, and Tara all shot their targets successfully, but Mike had problems with his, preventing the Red Team from advancing. The Blue Team ended up winning the challenge, while the Red Team never got out of the first station.
References
Edit
External links
Edit
Community content is available under
CC-BY-SA
unless otherwise noted.