Mike Seeklander
 Personal information
Born

1971-1972[1]

Hometown
Occupation

United States Shooting Academy[1]

 Competition information
Team
Place

16th

Episode eliminated
[Source]
Mike Seeklander was a Top Shot contestant of Season One and a member of the Red Team.
Personal life
Edit
Mike is from Owasso, Oklahoma, and formerly served as a marine in Kuwait and Saudi Arabia. As well as being a marine, Mike is also affiliated with the Federal Air Marshal Service, law enforcement, and is the senior instructor at the United States Shooting Academy. He has shot competitively with hand guns, rifles, and compound bows.[1][2]
Audition video
Edit
During Mike's audition video, he is seen shooting a rifle and then a pistol at an unseen target.[2]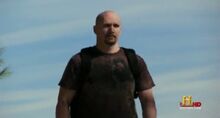 "I'm 38 years old and I've been training to do something like this for twenty years of my life. I'm going to perform very well because I'm good with everything."
―Mike Seeklander upon entering Top Shot.
Mike arrived for Season One, immediately being assigned to the Red Team. Eventually, after all of the sixteen contestants had arrived, Colby Donaldson, the host of Top Shot had arrived and announced the rules of the competition. Afterward, Colby introduced them to the house where they would be living for a few weeks. In the house, Mike met up with Simon "J.J." Racaza, of whom he had known for at least ten years due to his involvement with the United States Practical Shooting Association.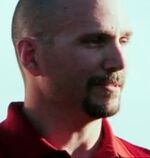 After being given time to get accustomed to the house, both teams headed to a Practice Session using four weapons: the M1903 Springfield, SVT-40, Mosin-Nagant, and M14 under guidance by expert, Craig Sawyer. Mike used the Springfield extensively during the practice and ended up being pretty confident with the weapon. Both teams arrived back at the house, where they rested, prepared for the upcoming challenge.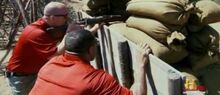 Before heading to the Shooting Range to participate in the Team Challenge, Mike was chosen as leader of the Red Team, and assigned each of the Red Team members to a specific firearm. After doing this, both teams went to the Shooting Range, where four stations with each of the four weapons were set up with an obstacle in each one's way. During the morning, Mike assigned himself to the Springfield along with Andre Robinson. To get to their station, they would have to crawl under barbed wire, and then afterwards, fire at a 50 and 100-yard target. Mike decided to shoot the 100-yard target, while Andre would shoot the fifty. Andre and Mike got through the barbed wire before Iain Harrison and Tara Poremba of Blue Team, and after Andre was able to hit his target, Mike began to shoot while Andre spotted for him. During this, Mike let off a large number of shots, struggling with shooting his target, while Iain Harrison was missing his target due to his partner being unable to find the target with the spotting scope. However, eventually Iain hit the target while Mike was still trying to hit his target. Mike's misses went to such a great extent, losing valuable time. Blue Team eventually won the challenge as Adam Benson and Chris Cerino hit the last Blue Team targets. Due to Mike's delay, Red Team would have to end up eliminating somebody the following day.
Both of the teams returned to the house, where Red Team conducted an instant meeting. During the meeting, Mike stated that he would take responsibility for the Red Team's loss and would go to the Elimination Challenge. However, other members of Red Team backed up for Mike, stating that the Blue Team had problems as well. Then Brad Engmann stated he would vouch for Mike, stating that being eliminated so early would be bad for his reputation and was unfair. After the meeting, Mike said that if he would go down in the challenge, he would want to lose to the best rifle shooter, which he considered was Kelly Bachand. Andre was the first to go up, shooting at Mike's target because he believed it was his fault that they lost the challenge. Then Brad voted for Kelly, because Mike wanted to go against the strongest rifle shooter. Then Denny Chapman was up, nominating Brad because he nominated himself, followed by the same vote by Kelly Bachand. Frank Campana then voted for Mike due to his performance, and then Bill Carns voted for Kelly Bachand because he believed his experience level was not as well as other people's on the team. Then Peter Palma was up, shooting Mike's target. Mike was last to shoot, and voted for Kelly just as he promised earlier in the day, ensuring both his and Kelly's spot in the Elimination Challenge.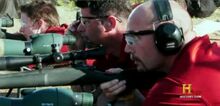 Before the Elimination Challenge, Mike and Kelly got up for a morning Practice Session using the Remington 700 under guidance of the returning expert, Craig Sawyer. During the Practice Session, Craig spotted for Mike while he shot the rifle. Mike shot his target in tight groups, making him possibly ready for the following challenge. Later that day, the Red Team headed to the Elimination Challenge, where two 200, 400, and 600-yard targets were set up. Whichever contestant would be able to hit all of their three targets would win. Before the challenge, Colby stated that each contestant could choose their spotter. Mike chose Bill Carns to spot for him while Kelly chose Peter Palma. Mike hit his 200-yard target before Kelly, but he quickly recovered, and both began shooting at their 400-yard targets at about the same time. Kelly, despite shooting after Mike on the first target, hit his 400-yard target before Mike, who had missed a few times while shooting at his target. Then Kelly began shooting at the 600-yard target, and after only two shots, managed to hit it, resulting in Mike's elimination. Before leaving, he congratulated Kelly on his victory and said goodbye to his team.
Post-competition
Edit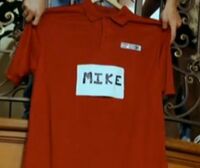 After Mike was eliminated, the fifteen remaining contestants discovered a red shirt that Mike had accidentally left behind. After Mike's departure, it was decided that when a contestant was eliminated from Top Shot, one of their shirts would be hung on a rail as a tribute to them. It is mentioned in the Season Finale's epilogue that Mike is still competing in national championships.
Personality and traits
Edit
"I have a tremendous amount of respect for a bunch of the guys and the gal in the house. They are extremely skilled. Farewell and good luck and I hope truly the best shooter wins this competition."
―Mike Seeklander
Mike was known to have natural leadership skills. Even before being chosen as the leader of the Red Team, he led them through the first Practice Session. He showed this throughout his short time in the competition. As well as being a good leader, Mike was also very respectful towards his fellow competitors and did not perform very arrogantly. After his poor performance during the first Team Challenge, Mike instantly stated that it was his fault that Red Team lost the challenge, and why he deserved to go to the Elimination Challenge. Before going to the Nomination Range, he told Kelly that he would vote for him so that he could go against the best so Kelly would know for sure why he would be sent to the Elimination Challenge. During his time on Top Shot, Mike got into touch with old friends, Simon "J.J." Racaza and Blake Miguez, and made a number of new friends, which possibly include Bill Carns and numerous members of Red Team. After leaving the competition, he stated that he hoped the best shooter would win, displaying good sportsmanship as well.
References
Edit
External links
Edit
Community content is available under
CC-BY-SA
unless otherwise noted.