Remington 700




Type
Country

United States

Introduced

1962

Appearances
The Remington 700 is an American sniper rifle introduced in 1962. It was used during the first episode of Top Shot.
The Remington 700 has been used since its introduction in 1962 by the public, federal government, and the military. It is currently in use by the RCMP of Canada, in Indonesia, Malaysia, and the United States Marine Corps.
The Remington 700 is also notable as the base platform for multiple special purpose rifles, including the M24[US ARMY], the M40 series of rifles[USMC], the XM2010[US ARMY], and the L96A1[BAF] and other Accuracy International rifles.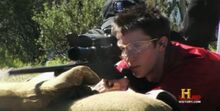 In Week One of Top Shot, the Remington 700 made its appearance as the firearm of the Elimination Challenge for Red Team's Mike Seeklander and Kelly Bachand. An expert, Craig Sawyer helped both contestants get familiar with the weapon before the actual challenge in the Practice Session. During the session Mike did rather well with the weapon, as did Kelly, as he playfully shot a smily face on his target. During the Elimination Challenge, the two competitors had spotters for them while they shot at 200, 400, and 600 yard targets. Mike ended up losing this challenge, being unable to shoot the 400 yard target.
Appearances
Edit
References
Edit
Community content is available under
CC-BY-SA
unless otherwise noted.