TZ99




Type
Country

South Africa

Introduced
Appearances
The TZ99 is a semi-automatic pistol based off of the Serbian CZ 99. It is one of numerous pistols that have made an appearance on Top Shot.[1]
The TZ99 was produced by Tressitu in the 1990s for a very short time before the company went bankrupt.[1]
Week Four
Edit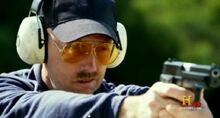 The TZ99 made its first appearance on Top Shot during Week Four's Elimination Challenge. Before competing in the fourth Elimination Challenge, Iain Harrison and James "Jim" Sinclair were to practice using the weapon while shooting at a moving pendulum target under guidance of Craig Sawyer. Craig stated that he thought that Jim was more methodical with the weapon, but Iain was faster. At the Elimination Challenge later that day, the contestants would use the TZ99 to try shooting as many moving foe targets as they could, and as little friend targets. In the end, Iain had hit all of his foe targets and no friend targets, while Jim had hit all his foe targets, but accidentally hit a friend target, resulting in his elimination.[2]
Week Nine
Edit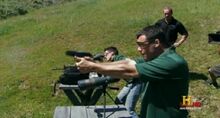 After the first Elimination Challenge of Week Nine, the remaining contestants, Kelly Bachand, Adam Benson, Chris Cerino, Iain Harrison, Peter Palma, and Simon "J.J." Racaza were given an opportunity to practice using four weapons under guidance by Craig Sawyer before the following challenge. These weapons were the TZ99, HK93, Mosin-Nagant, and SVT-40. At the second Elimination Challenge, stations were set up with each weapon, with the TZ99 being the first station. After everybody shot, Adam and Kelly were sent home.[3]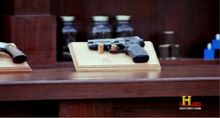 During Week Ten's second challenge, contestants were given the opportunity to choose from three pistols and three rifles to shoot at a target they chose. One of these pistols was the TZ99, along with the Smith & Wesson M&P and the Smith & Wesson Schofield. The firearms used were the M&P, Schofield, and the HK-93 rifle. The TZ99 was not used during this challenge.[4]
References
Edit
↑ Cite error: Invalid <ref> tag; no text was provided for refs named Wikipedia
↑ Cite error: Invalid <ref> tag; no text was provided for refs named S1E4
↑ Cite error: Invalid <ref> tag; no text was provided for refs named S1E9
↑ Cite error: Invalid <ref> tag; no text was provided for refs named S1E10