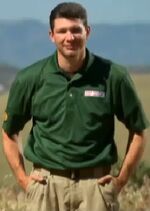 On October 25, 2011, Top Shot contestant, Dustin Ellermann became the third winner of the competition, after Iain Harrison of Season One and Chris Reed of Season Two. When I watched the short intro of the Season Three contestants in Season Two's "Behind the Bullet", I instantly knew I would root for Dustin, because I wanted to see a fellow Christian win the competition. After he had made it past 5th place, I was relieved, because personally, both of the competitors I had avidly supported in the previous seasons: Kelly Bachand and Jamie Franks, had both ended in 5th. After that, I knew Dustin would have a good chance at winning the competition, because he has an innate ability to shoot fast and accurate with almost any weapon he picks up. To my relief, he did end up winning. Congratulations to Dustin for proving his versatility with firearms and his nobility in the competition!
Community content is available under
CC-BY-SA
unless otherwise noted.