Zipline of Fire




Season
Episode

Two

Date aired

June 13, 2010

Top Shot
Expert
Firearms used
Victory

Blue

Eliminated
Episode guide
Previous episode
Next episode
Zipline of Fire was the second episode of Top Shot Season One. It was aired on June 13, 2010.
Official description
Edit
This week, contestants' pistol skills are put to the test with the slide-action Beretta, the weapon that replaced the iconic revolver. Teams go "down the tubes" in a challenge that forces them to rank their own accuracy. Two competitors then face off in a surprise zipline challenge to determine who gets eliminated.[1]
Shirt hanging
Edit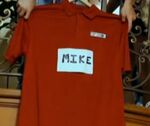 After Red Team returned back to the house, Blue Team was surprised to see that Kelly Bachand was the one to come back from the challenge, and some, like Simon "J.J." Racaza were disappointed. It was then decided that when a contestant left the competition, their shirt would be hung on the railing of the house as a tribute to them. The hanging was done by Blue Team members Blake Miguez and Iain Harrison.
Practice Session
Edit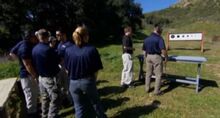 Before participating in the Team Challenge, both teams were given an opportunity to shoot the Beretta 92F, the firearm used in the challenge, under guidance by practical shooting expert, Ben Stoeger. Blue Team was up for practice first. Many of the members of the team, especially Blake, did very well with the pistol, but James "Jim" Sinclair was their only concern, who was struggling with the weapon. When Red Team was up, many of the members also did well. Brad Engmann, being a pistol shooter, ironically didn't do as well as his team expected. They tried saving numerous rounds for Kelly, who was not as experienced with the pistol, but seeing that he was doing well, Brad asked if he could go up and shoot again, using up the remaining rounds that would have been given to Kelly.
Team Challenge
Edit
References
Edit
↑ Fair use material from the Episode Guide
Community content is available under
CC-BY-SA
unless otherwise noted.